We're well into the month of October, and the pumpkins have started appearing on front porches around suburban America. Halloween isn't far off–just two weeks from Saturday, in fact. Halloween is perhaps not famous as a gaming holiday, but we figure what the heck: Any excuse for a game is a good excuse for a game!
A Creepy Adventure That You Could Start Running 10 Minutes from Now!
What's better than a Halloween-themed adventure? How about a free Halloween-themed adventure? And what if that was an Instant Adventure, so that you could run it without spending more than five or ten minutes prepping for it? We have all of that for you in the free preview for the forthcoming Strange Revelations.
In "Game of Screams," the PCs get together with a recursion-miner friend who purchased a board game in Crow Hollow. The seller had teased the game as being "haunted" by witches and ghosts, and guaranteed it to be a "genuine artifact of the Strange." The latter proves to be true—but the game turns out to have as many tricks as it does treats! The complete adventure is included in the free preview of Strange Revelations (along with a new focus you can also use right now.).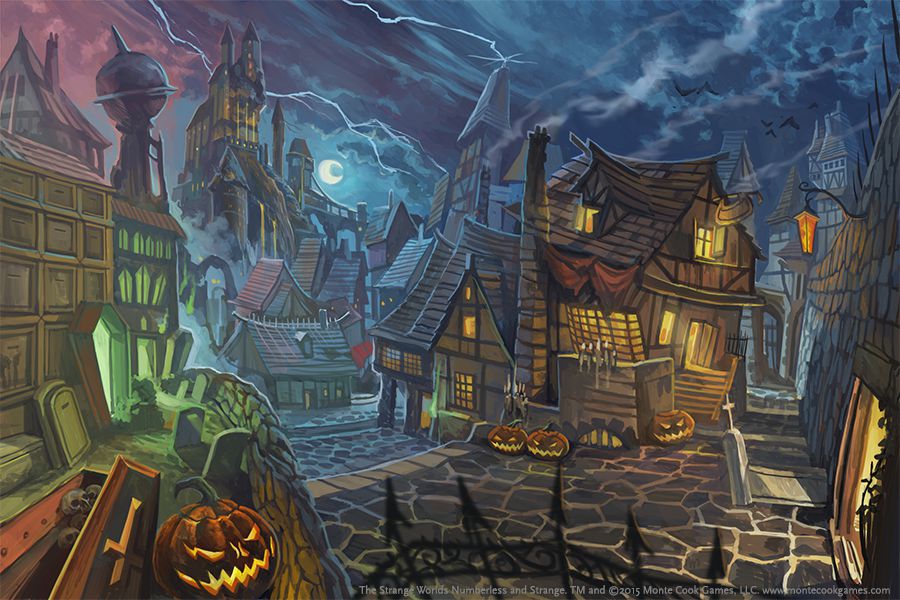 If you haven't tried our Instant Adventures yet, you should definitely check this out. The Instant Adventure format is an innovative new way of presenting adventures that allows you to run an RPG without hours of prep and reading. You can be running your game 10 minutes after first opening the adventure—it takes no more time or effort to get started than setting up a board game. Here are some comments we got about Weird Discoveries, the first book of Instant Adventures that came out for Numenera a few months ago:
"Preparing for this adventure was simple, requiring only a quick read-through of the overview and highlights."

"It was wonderfully easy to grab the adventure and go . . . much easier to prepare for as compared to other adventures I have run!"

"My group thought I'd done the same prep as usual and were very surprised when I said I'd literally just skimmed four pages at the start of the session."

"A excellent way to throw together a game on the fly whenever we could find time to get together and play."
(These are all actual comments from GMs who ran a Weird Discoveries Instant Adventure—you can read more here and get some more in-depth feedback here.)
The complete adventure Game of Screams is part of the free preview for Strange Revelations. You can download it right now!
Don't Have The Strange? Wow, Do We Have a Deal for You!
So maybe you haven't played The Strange yet. Or maybe you've given it a try, but don't own many of the products. You're in luck: The Strange is currently featured on Bundle of Holding, and it's an incredible deal—but for a limited time only! And a chunk of the proceeds go to charity!
For about the price of the corebook in PDF, you can currently get PDFs of The Strange corebook, the Player's Guide, In Translation: The Strange Character Options, The Strange Bestiary, and Worlds Numberless and Strange, along with a handful of our short fractal products. 10% of the proceeds go to Human Rights Watch. Don't dawdle, though. The deal is only open for a limited time—and if you get in early, the price tends to be a little better.
This deal is so good that even if you have the corebook, and perhaps one or two of the other supplements, it's still an incredible bargain on the rest. And if you have it all, it's a great way to get new players into the game—so tell your friends and help spread the word!
The Strange Bundle of Holding deal is available here—but only for a limited time!
A Tingle Up Your Spine
This is a great month to play a bit of The Strange, but don't forget The Devil's Spine for Numenera. This hefty set of four linked adventures (they can be run individually, but also connect together into one arc story) has plenty of creepy moments. Halloween isn't celebrated in the Ninth World, but for those of us here in this world, who like a touch of the horrific in our October game sessions, it's a great time to delve into The Devil's Spine.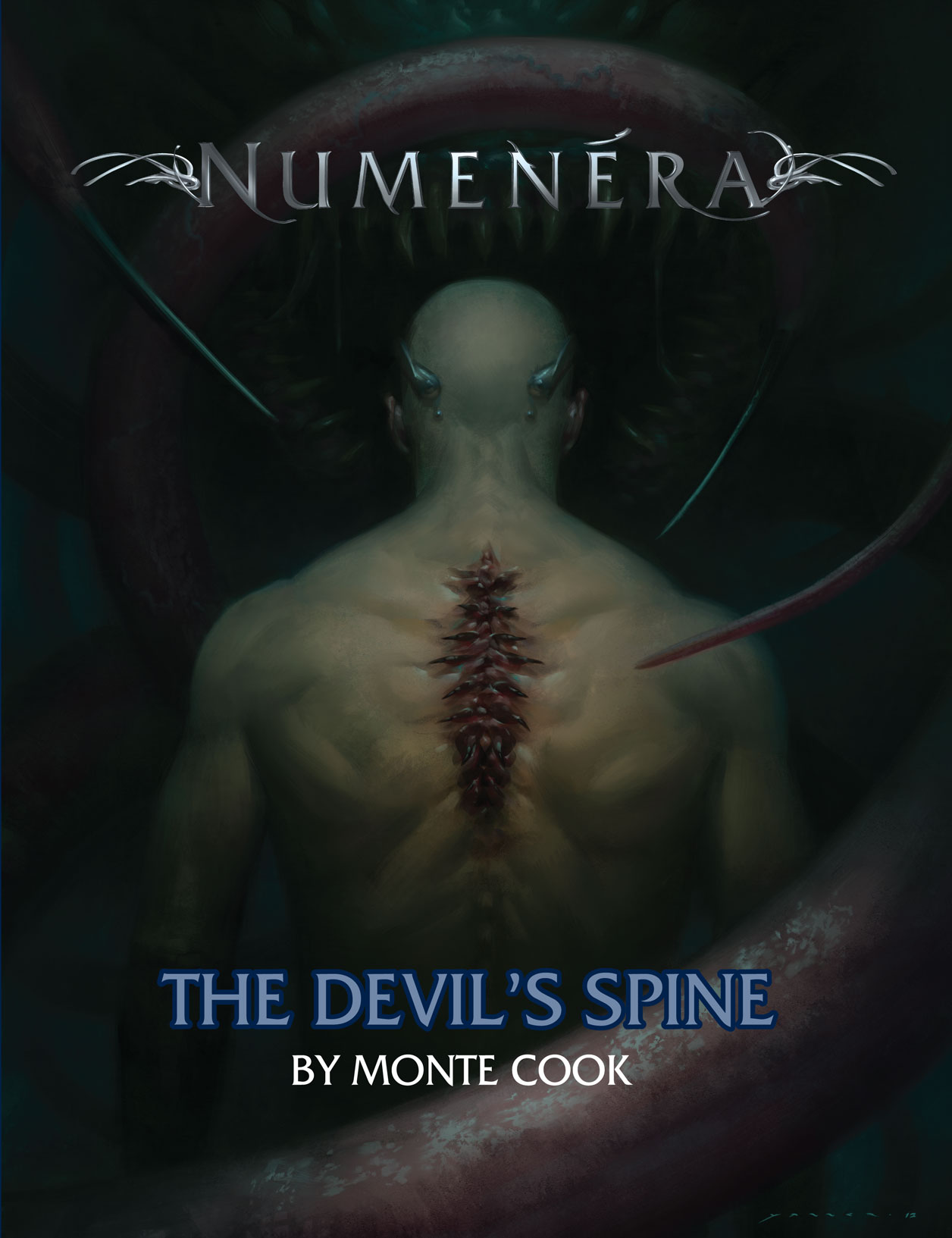 You can find The Devil's Spine, including a free preview that gives you a peek into the adventures, here!