We're having a moving sale! Please help us clear down our inventory for our big warehouse move—you save money and we save our backs! Let's take a look at the Cypher System Creature Index, which is live and ready to serve up creatures for your encounters. Let's also look at the Planar Bestiary for Cypher System, which is available to preorder, and Who the Devil Are You?, which is available to purchase. Plus we'll tell you about Astra Fauna: Expeditions from Sarah Dahlinger, a Kickstarter you won't want to miss!
You can get Cypher Chronicles, and other MCG news, delivered right to your inbox! Enter your email address and click the Subscribe button in the right-hand column, and you'll never miss a post. You can also suggest topics for Cypher Chronicles by emailing us at [email protected].

Big Warehouse Moving Sale!
Do you like saving money? Do you like imaginative, creative games? Do you want to help us clear down some inventory to make our upcoming warehouse move easier? Of course you do!
For a limited time only, we're holding a big sale of all physical product. You get fun games. You save money. We ship stuff to you instead of moving it. Win-win-win!
Who the Devil Are You?
Surprise! This week we released a whole new roleplaying game!
A fun, fast-paced, zero-prep roleplaying game perfect for short pick-up games or any time you want to have a great time creating a memorable, entertaining story. Pick your genre, pick your prompt, create some quick characters, and you're off! Who the Devil Are You? is a true joy to play and amazingly simple and prep-free.
Check out the Super Handy Creature Index!
As if a whole new game wasn't enough, this week we also rolled out the Cypher System Creature Index—a fantastic tool when you're looking for just the right creature for your next encounter.
Set filters for the range of levels you need, your genre, the encounter environment, and/or the creature's motivation. You can even limit results to particular products.
What do you get? All the creatures that fit the bill—from across the Cypher System. (Only MCG products. As of this writing, about 600 creatures from over a dozen titles are included, with more being added regularly.) You get a brief description to help narrow the choice, and the product title so you can look up the full stats. It's a great time-saver, and it really helps unlock all the great creature options in your collection!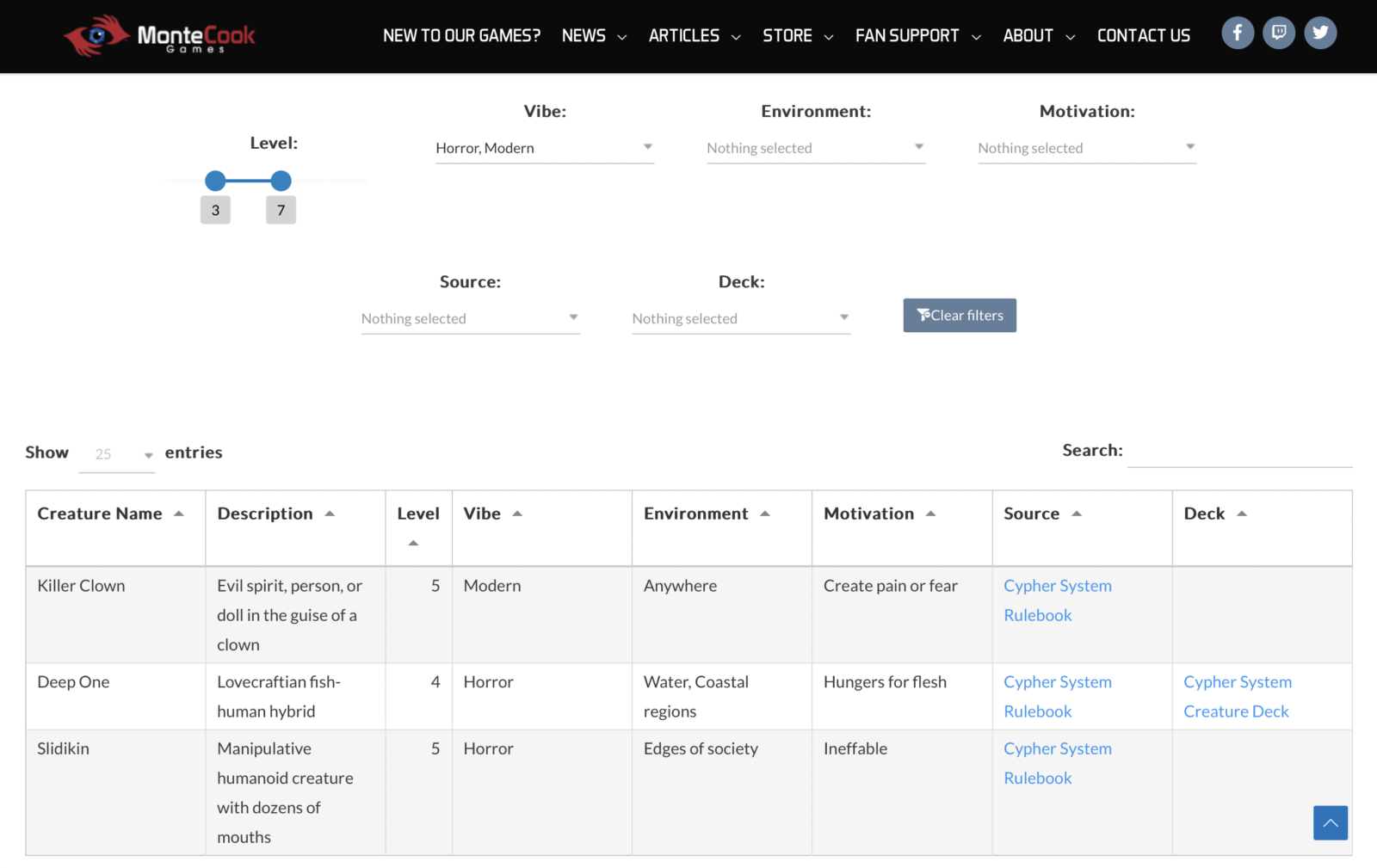 Speaking of Creatures: There's a New Bestiary in Town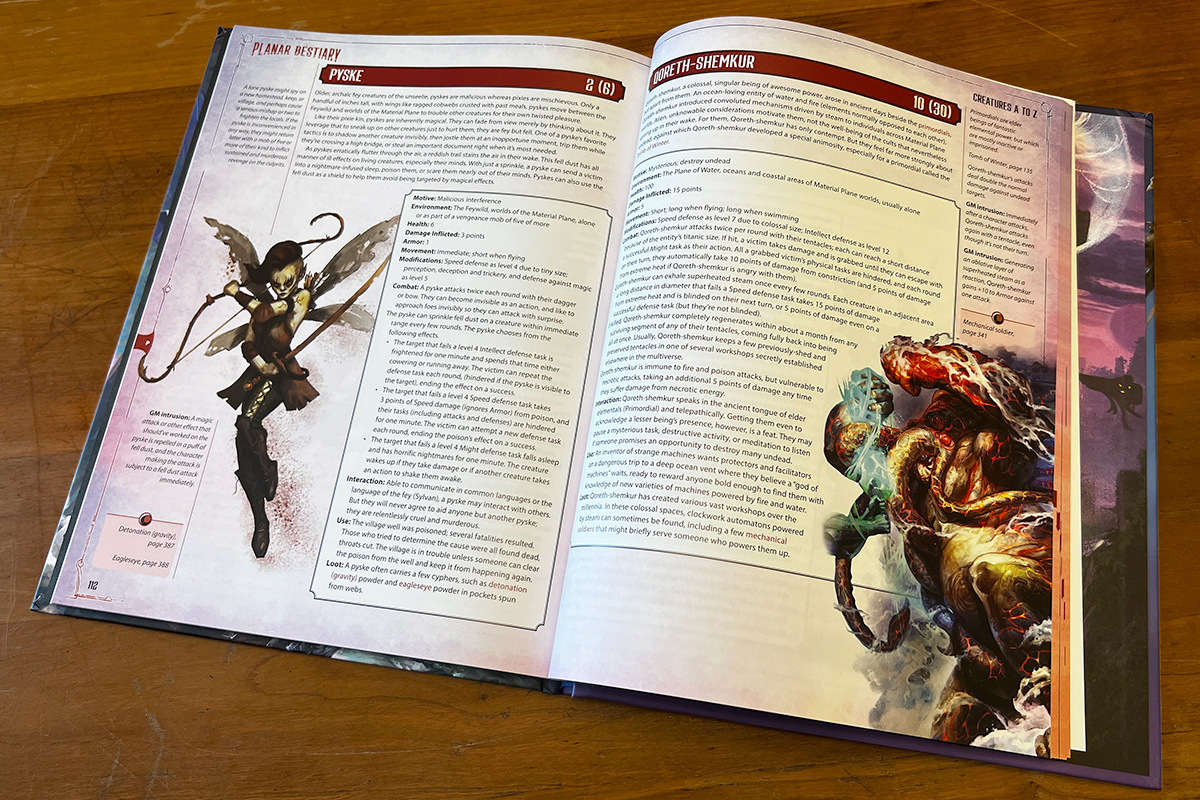 The Planar Bestiary for Cypher System is in our warehouses and fulfilling to backers of the Adventures in the Cypher System campaign now. If you didn't back, but preordered, yours will ship soon. Haven't preordered? What are you waiting for?
With 150 extraordinary creatures from all sorts of weird dimensions, the Planar Bestiary isn't just about extraplanar fantasy. It's filled with loads of great stuff you can easily pull into your Numenera, The Strange, horror, or sci-fi games. Or any game that could use a touch of the otherworldly!
Want a look at the full list of Planar Bestiary creatures, complete with short descriptions and other data? Zip over to the aforementioned Cypher System Creature Index, and choose Planar Bestiary in the Source filter drop-down. (And don't forget you can download the free preview, with nine complete creatures you can use right now!)

If you love the art in MCG's products—particularly our many imaginative creatures—you've probably admired the work of Sarah Dahlinger who has contributed so much of it over the years. She just launched a Kickstarter for her art book Astra Fauna: Expeditions, which explores imaginative and wondrous creatures through the eyes of five alien scientists. It's going to be a big, beautiful, inspirational book—one you'll want on your bookshelf!