The new season of Cypher Play officially starts on May 15th!
Cypher Play is our organized play program—new adventure scenarios from MCG, available only in game stores, and played in game stores to build a community of active gamers. If you're interested in trying out Numenera for the first time, keen to find new Numenera players in your area, or just want to get in a bit more Ninth World gaming, ask your FLGS if they're running Cypher Play!
Season 2017-2 is called The Secret City, written by MCG's Dennis Detwiller. In these scenarios, an unexpected explosion reveals that the city of Cymer's ancient protective wall is much more than it appears, starting a race against time to contain a dangerous, long-buried threat. Dennis is the author of our upcoming Unmasked setting for the Cypher System, and he's one of the creators of Delta Green, so he definitely knows how to write weird and creepy stuff!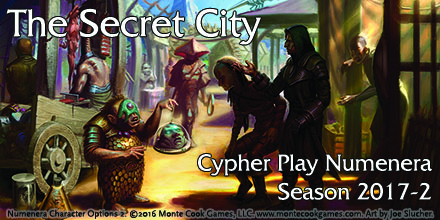 Last season we had more than 60 game stores all over the world running Cypher Play, and we have more than 80 signed up for this season.
Each Cypher Play season is 4 months long and is typically six or seven sessions long, but the program is designed to be flexible so each individual store can run the scenarios on a schedule that suits their needs. Some stores have run one scenario per week, then started the season over with new players, some ran one scenario every other week for the whole season, some ran them all over the course of a single weekend, and some have gotten even more creative with their scheduling.
If you're a retailer and you'd like to run Cypher Play for your store, apply at this link! (Because a season is 16 weeks and there are only 6 scenarios, it's okay if a store signs up after the start of the season—there's plenty of "wiggle room" in the schedule.) Here are the fundamentals:
It's free for stores to participate.
It's free for players and GMs.
It's brand-new adventure content.
It's newbie-friendly, and tolerant of players dropping in and out.
A typical season is 6 or 7 linked scenarios, with each scenario meant to last about 2 hours.
If you're a player or GM and you'd like to see Cypher Play at your local game store, ask them to sign up!
If your store doesn't have a Numenera GM, Cypher Play is a great opportunity for you to run some games! And here's a cool perk—once you play through a scenario, every player gets a copy of that scenario to take home so they can run it for other people!
You can find more information about Cypher Play here.