I'm sure it's no surprise that I'm a life-long fan of science fiction. That means I consumed the sci-fi contents of my grade school, junior-high, high-school, and local libraries, down to the last dregs of sci-fi. In fact, I read many of the books multiple times.
I was also enrolled in the Science Fiction Book Club at a young age, which got me started building my own library. This began long before the internet brought us easy access to books. These days, I still prefer a print book over an ebook, but science fiction audio books may even push print books from the throne of my personal preference.
All of which is to say that a lot of "research" over a long period of time went into the writing of The Stars Are Fire. A tiny few of those were actually mentioned in manuscript. (Many, many more equally great books aren't mentioned, but that is not a reflection on their quality, only on the space we had available.)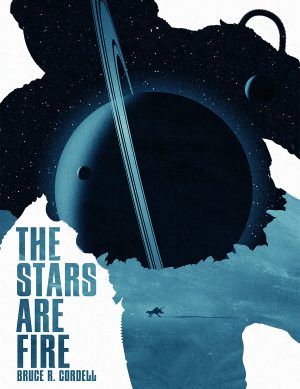 Our friend and proofer, Jeff Quick, compiled the novels I mentioned by name for easy reference. If you love science fiction, maybe you've read (or in one case, watched) most of these yourself. But if you haven't, I bet you'd enjoy trying a few.
| | | |
| --- | --- | --- |
| Title | Author/Creator | Subgenre |
| 2001: A Space Odyssey | Arthur C. Clarke | Uplift |
| 84K | Claire North | Dystopian |
| A Connecticut Yankee in King Arthur's Court | Mark Twain | Accidental travel |
| After On | Rob Reid | Near-future |
| A.I. Artificial Intelligence | Steven Spielberg, Ian Watson | Robots and posthumans |
| All You Need Is Kill | Hiroshi Sakurazaka | Military sci-fi |
| Armor | John Steakley | Military sci-fi |
| Blade Runner | Ridley Scott | Cyberpunk |
| Boneshaker | Cherie Priest | Steampunk |
| Brave New World | Aldous Huxley | Dystopian |
| Childhood's End | Arthur C. Clarke | Alien invasion |
| Close Encounters of the Third Kind | Steven Spielberg, Paul Schrader, et.al. | First contact |
| Daemon | Daniel Suarez | Near-future |
| Do Androids Dream of Electric Sheep? | Philip K. Dick | Cyberpunk |
| Dust | Elizabeth Bear | Generation ship |
| E.T. | Steven Spielberg, Melissa Mathison | First contact |
| Foreigner series | C.J. Cherryh | Social/soft sci-fi |
| I, Robot | Isaac Asimov | Robots and posthumans |
| Independence Day | Roland Emmerich | Alien invasion |
| Marooned in Realtime | Vernor Vinge | Singularity |
| Marrow | Robert Reed | Robots and posthumans |
| Neuromancer | William Gibson | Cyberpunk |
| On Basilisk Station | David Weber | Military sci-fi |
| Snow Crash | Neal Stephenson | Cyberpunk |
| Startide Rising | David Brin | Uplift |
| The Calculating Stars | Mary Robinette Kowal | Alternate history/apocalyptic |
| The Expanse | James S. A. Corey | Hard sci-fi |
| The Handmaid's Tale | Margaret Atwood | Slipstream |
| The Left Hand of Darkness | Ursula K. LeGuin | Feminist |
| The Man in the High Castle | Philip K. Dick | Alternate history |
| The Number of the Beast | Robert A. Heinlein | Time/dimension travel |
| The Red: First Light | Linda Nagata | Military sci-fi |
| War of the Worlds | H.G. Wells | Alien invasion |