Are you curious about The Strange RPG, but haven't tried it? Now you can check it out in style by grabbing the ENTIRE library of previously published books and PDFs for The Strange!
Of course, you could do that at any time at our store, but not with the amazing discount we're offering right now in our Kickstarter campaign to create a deluxe boxed edition of The Strange that runs through March 17th.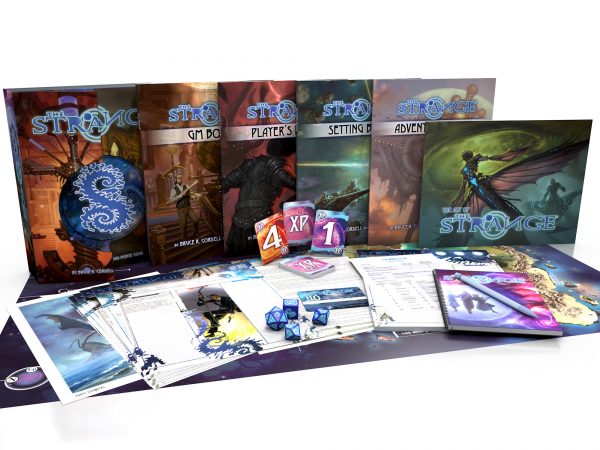 How do you get the entire game line of previously published books and PDF-only fractals for The Strange? By choosing the LIBRARY OF IMPOSSIBLE THINGS backer level. By doing so, you get THE STRANGE BOX itself, the deluxe boxed edition that includes all the in-box upgrades to content added to the campaign thanks to stretch goals, which could significantly improve the size and contents of the box.
But in addition to that, you ALSO get a PDF copy of ALL the previously published books from the original game line. All told, that's a collection of 27 titles exceeding $150 in value.
Let's enumerate exactly what that includes! You get all the following in PDF:
The Strange corebook
The Strange Player's Guide
The Strange Bestiary
Encyclopedia of Impossible Things
Worlds Numberless and Strange
In Translation: Character Options for The Strange
The Dark Spiral campaign adventure
Strange Revelations set of ten instant adventures
Alternate Origins
Cults, Factions, and Syndicates
Eschatology Code adventure
Extreme Cyphers
Gods Beyond: Converting Gods of the Fall for Numenera and The Strange
Impossible Vehicles
Mastodon adventure
The Hum: Welcome to the Grand Bavarian adventure
Ohunkakan: The Living Myths
Swordbreakers
Tales from The Strange
The Estate Dossiers
The Paradox Room
When Words Collide: Converting Numenera and The Strange
The Strange Character Sheets
The Strange Creature Deck
The Strange Cypher Deck
The Strange XP Deck
The Strange GM screen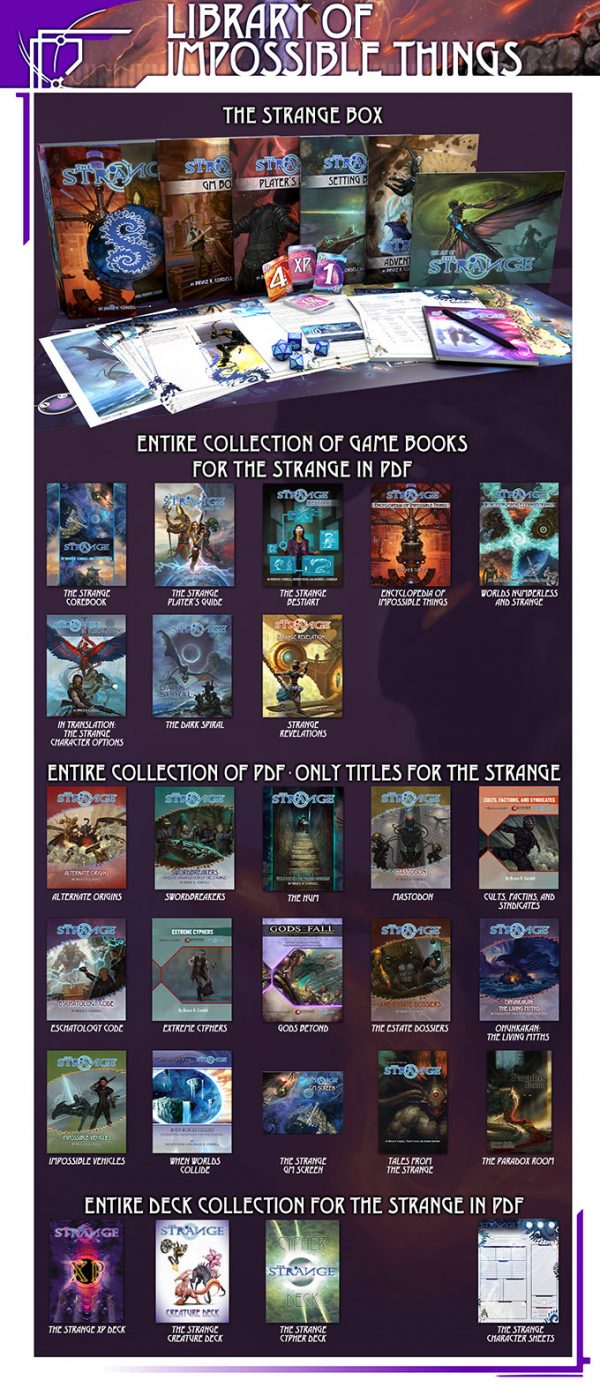 As you can see, that that's quite a package!
Head over to the Kickstarter campaign right now to take a look and decide there if you'd like a LIBRARY OF IMPOSSIBLE THINGS for yourself or for a friend.
P.S. Still can't decide and want to know more about The Strange? Watch this video of us playing The Strange to learn more: