Backer of the Exclusive Numenera Boxed Set Edition? Which would you rather hear first: the good news, and bad news, or the other good news? The good news? Great—that's where I'll start.
The good news is that the ship carrying the Exclusive Numenera Boxed Set Edition arrived in port early last week—a day or two ahead of schedule! Huzzah!
The bad news is that our shipper informed us on Friday that Customs flagged our container for "intensive exam." You know how, when you're at the airport and going through security, they pick people out at random to open bags, swab shoes, and do that other crazy extra stuff? It's sort of like that. And it typically adds five to seven extra days to the process of clearing Customs. Boo!
But then the other good news is that we learned, just hours ago, that it was all taken care of over the weekend! The boxed sets are on US soil and clear of Customs! Next step: Getting on a truck and making the short hop from the port at Savannah, GA to our warehouse in the Atlanta area.
We expect our warehouse to receive the Exclusive Numenera Boxed Set Edition no later than Monday. (Remember that this is a short week, what with the holiday.) We will begin shipping immediately. The boxed set is a priceless commodity (there will never be any more printed!) and we need go the extra mile to ensure shipping goes smoothly—so Tammie, our customer service guru, will make the trip from Kansas City to Atlanta, remaining at our warehouse through the first few days of shipping to personally oversee the process.
It might take as long as two weeks to ship all rewards (that's just a warning in the interest of full disclosure—we hope it will not take nearly that long). And obviously shipping times vary, both within the United States and especially overseas. But baring any unforeseen twists, some of you may be holding your boxed sets in your happy hands by the end of next week!
Keep an eye out for future updates or email from the Kickstarter, Tammie, or the MCG store, in case there are any issues. Be certain items from these sources aren't going to you spam folder.
In Other Kickstarter News
Some of you may have backed our most recent campaign, No Thank You, Evil! It's been a real joy working on this game, with its slightly different audience (families and kids as young as five). We'll be sending out playtest materials in the next week or so to those who backed at levels that include it, and we can't wait to hear what those backers have to say!
We're also about to fulfill the next reward for our backers of The Strange: Worlds Numberless and Strange, a beautiful 224-page book detailing over 70 new recursions. We received our first-off-the-presses copies late last week, and are expecting the shipment to hit our warehouse this week. Exciting times!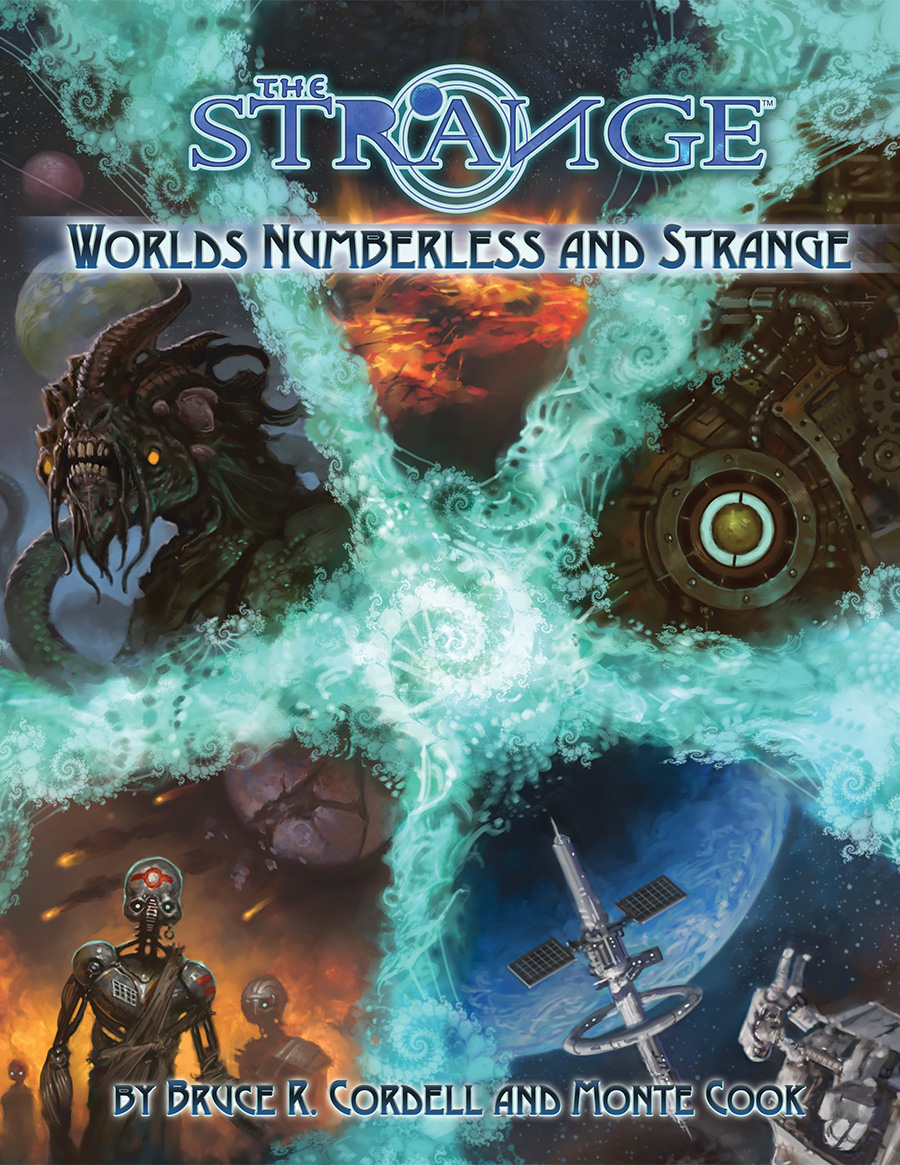 (And while we're talking about cool product deliveries, why not mention the Cypher System Rulebook, which goes out to NUMENERA SUPERFANS of the Exclusive Numenera Boxed Set Edition? This one is expected to ship from the printer this week! If you didn't pre-order it from us, you can still do so at your FLGS and get a really cool deal: We'll send you the PDF version, for free, to go with your print copy! You can find all the details at www.cypher-system.com.
What's Next for Numenera?
The next Numenera title in the pipeline is Into the Night, which takes Ninth Worlders, well, out of the Ninth World!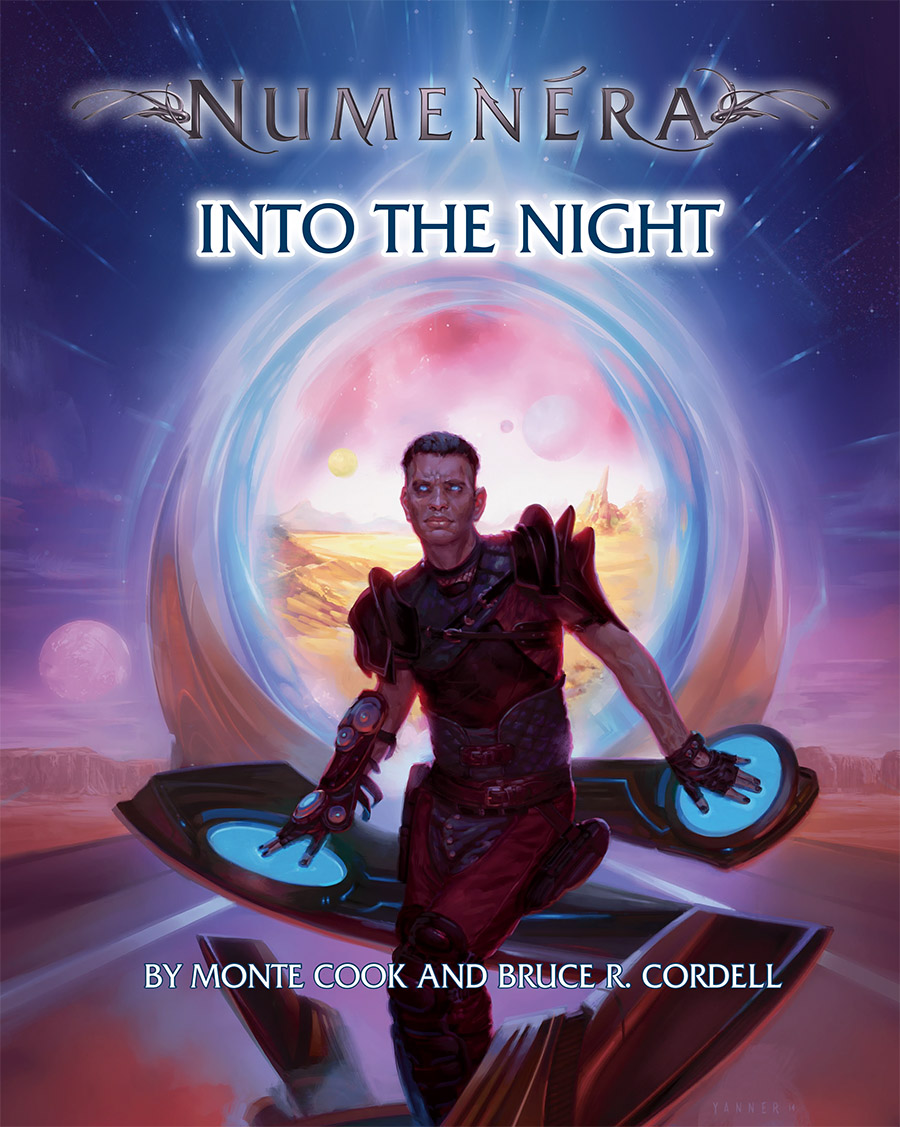 We're going to have some pretty cool news about this title over the next week or two, so keep your eyes on the MCG blog and make sure you've Liked the MCG Facebook page.
Going to Gen Con?
So are we! We're in booth 1737—drop by and see us! Even better, plan to come to the MCG seminar (SEM1572075). We'll have cool news and a Q&A with Monte, Shanna, Bruce, and the rest of the team. Plus you'll be among the first people to watch the Numenera: Strand short film! Gamers who have been to our seminars in the past have found them very . . . rewarding. Seats are going fast, so be sure to reserve your ticket ASAP!
Need to Reach Us?
If you have any issues or concerns regarding Kickstarter fulfillment, please reach out to us via the Contact Us page here on montecookgames.com. Please DO NOT expect a response to comments on Kickstarter; we try to keep tabs on them, but we can't do so reliably. For general conversation, like our Facebook page and follow us on Twitter!
Iadace, and thanks for your wonderful support in bringing this boxed set to life!
—Charles