Monte is no stranger to deluxe products. Eleven years ago, he released (through Malhavoc Press) his mammoth, deluxe campaign setting book, Ptolus: City by the Spire.
Ptolus was a huge undertaking—a 672-page campaign for the d20 System. It contains more than 130 pages of color artwork and maps, bound-in fabric bookmarks, two dozen handouts, a double sided poster map, and a CD-ROM containing additional bonus products—including more than 350 pages of additional Ptolus adventures and source material. It has a textured cover by Todd Lockwood and the highest quality paper and binding.
Its entire design was based on travel guidebooks with every page containing page numbers, notes, bits of art, and maps to help reference the great volume of material and make it all far more usable.
As you can imagine, it was an incredibly expensive undertaking. It ended up being an $120 book. Expensive by today's standards, but crazy ten years ago. But the gamers who bought it pretty much all thought they were actually getting a steal. And they were right.
That idea really helped birth the idea of high-end, deluxe, expensive-but-worth-every-penny sorts of products that we see today. It proved that there's an audience for that kind of thing. People are willing and able to pay for quality. And the amount of content you get in Invisible Sun rivals that of Ptolus, plus you get more than a thousand cards, dice, counters, a board, the testament of suns, dozens of props, handouts, and play aids, plus a lot more.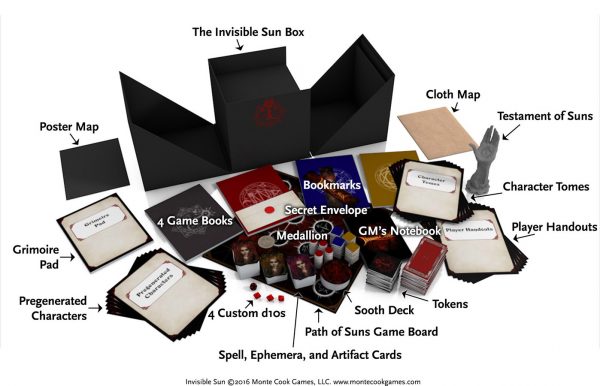 Monte Cook Games attempts to run the gamut—we've made products that were very affordable for the cost-conscious gamer, and deluxe products for those who want something more. For deluxe, you need look no further than the Numenera Reliquary Boxed Set, a box packed with so much stuff we had to make it almost five inches deep to hold it all: books, fiction, map book, art book, cloth map, cards, dice… that box has everything. Even the box itself is cool, with a magnetic wraparound lid.
At the other end of the spectrum we have the Numenera Starter Set, a box packed with full-color books, cards, and character sheets, giving you all you need to get started playing Numenera at a really low price—perfect as a gift to a gamer-in-training or someone just getting their feet wet in the Ninth World.
But these aren't just pretty products. Starting with Ptolus, Monte has demonstrated he's always thinking about how a book will get used. Invisible Sun carries on that tradition and expands upon it. Its unique box is filled with wonders, and not just because there is so much, but because of the approach of the design. Rather than just another RPG, Invisible Sun is crafted for maximum usability and the same time is laced with secrets and mysteries. You'll find clues and codes hidden throughout, in the text, the art, and all the components. This of course makes the product much more complex to design, edit, and layout. It makes the components more costly. But that's part of the joy. After all, why would we want to make something that's just like a hundred things you've seen before?
The deluxe nature of Invisible Sun is what makes the game work—its deluxe nature is essential for it to be the best game that it can be.
(Preorders are open for Invisible Sun! Want to know more? Take a look at What Has Been Revealed So Far!)