A Few Mentions Before You Convention
The MCG staff is at Gen Con 2016 this week in Indianapolis, Indiana. To prepare you, we've rounded up a bunch of relevant links. You can thank us at the show.
Gen Con News
Here's a coupon with our schedule and a list of official events at the convention. Be sure to come by the MCG Seminar on Saturday at 1pm for our big announcement!
Our Twitter and Facebook feeds have links to staff schedules, in case you're trying to find your favorite creator to say hello.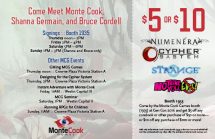 While we're at Gen Con, the MCG Shop is still open, but fulfillment and shipping of physical goods are on hold until the show is over.
Shanna Germain wrote a special feature about how to interact with creators at game conventions.
We'll have a large selection of print products at our booth (#1935, almost in the center of the exhibit hall). Come check out our newest releases—Gods of the Fall, Torment: Tides of Numenera—The Explorer's Guide, and No Thank You, Evil!
At our booth you'll also be able to demo Numenera, the Cypher System, or No Thank You, Evil!
Torment: Tides of Numenera—The Explorer's Guide
We're having a special preorder promotion for Torment: Tides of Numenera—The Explorer's Guide. Like stretch goals for a Kickstarter, the more preorders we receive, the more content we add to the book. We've already added two free poster maps with every preorder, and we're close to 500 preorders now, where we'll include a print poster map of PDF poster map #1. If we hit 750 preorders, we'll print another PDF poster map on the flip side of poster map #1. This promotion ends August 10th!
We'll have advance copies of Torment: Tides of Numenera—The Explorer's Guide on sale at our booth, and the folks from InXile Entertainment will be showing off the Torment: Tides of Numenera videogame there as well.
Author/designer Shanna made a Q&A video about the book, answering questions from Facebook and Twitter.
Monte Cook made a video about Numenera coming full circle, from a tabletop RPG to a videogame and back again to a tabletop sourcebook.
Art director Bear Weiter made a video about art direction for the book and working with InXile.
We've posted several art previews on social media, such as the city of Sagus Cliffs, the Caravanserai District, the Bloom, the Changing God, and the aquatic city of M'ra Jolios.
Monte Says
Monte's had a lot to say in the past month. Don't miss his articles on giving the players more control over their characters, examining the success of the Ptolus City by the Spire deluxe campaign setting book, and encouraging players to treat their GM right.
Eyes Open
So, if you're at Gen Con, stop by booth 1935 and say hello! (And we're all happy to sign books, just ask!) If you're not at Gen Con, keep an eye on our Facebook and Twitter for news and updates during the show.